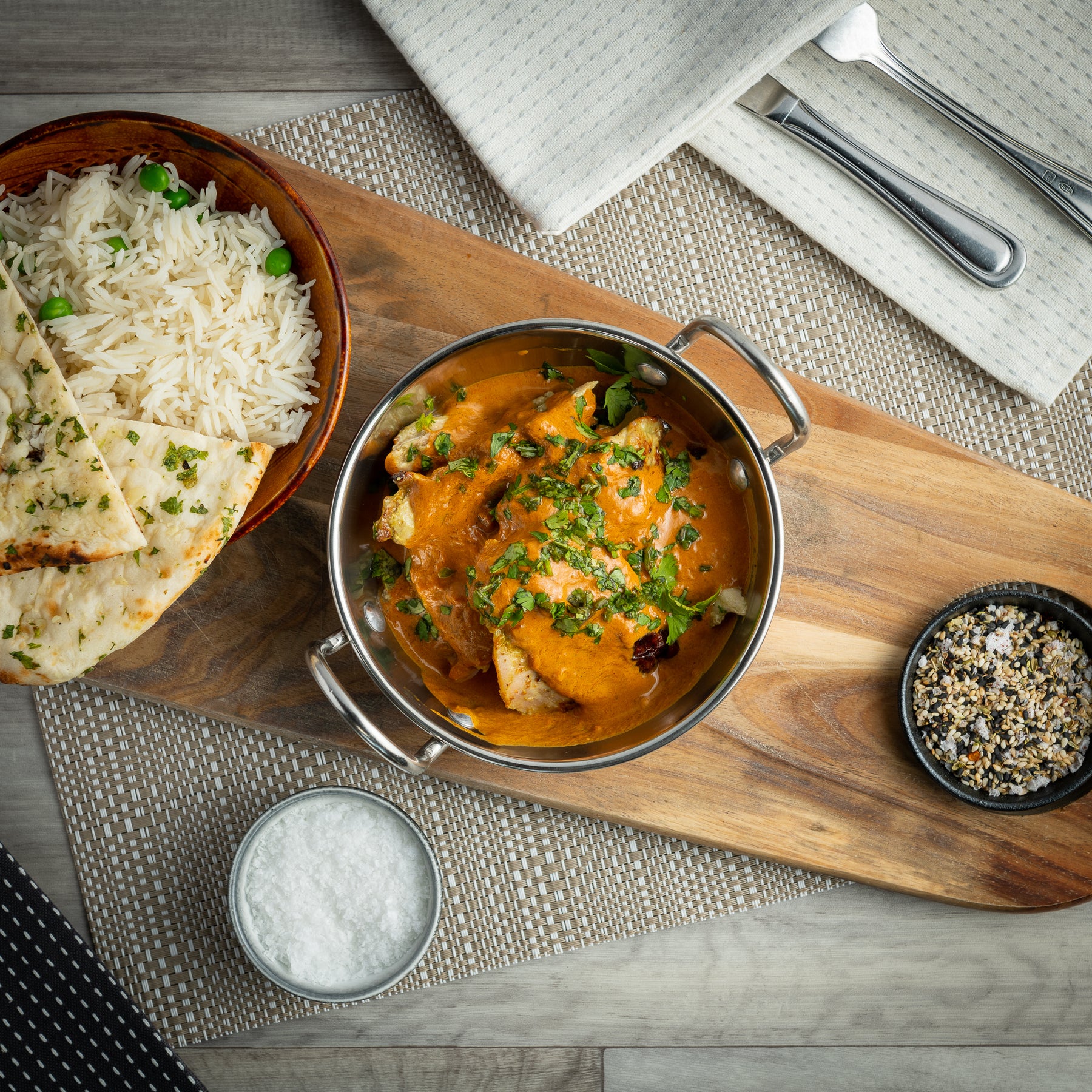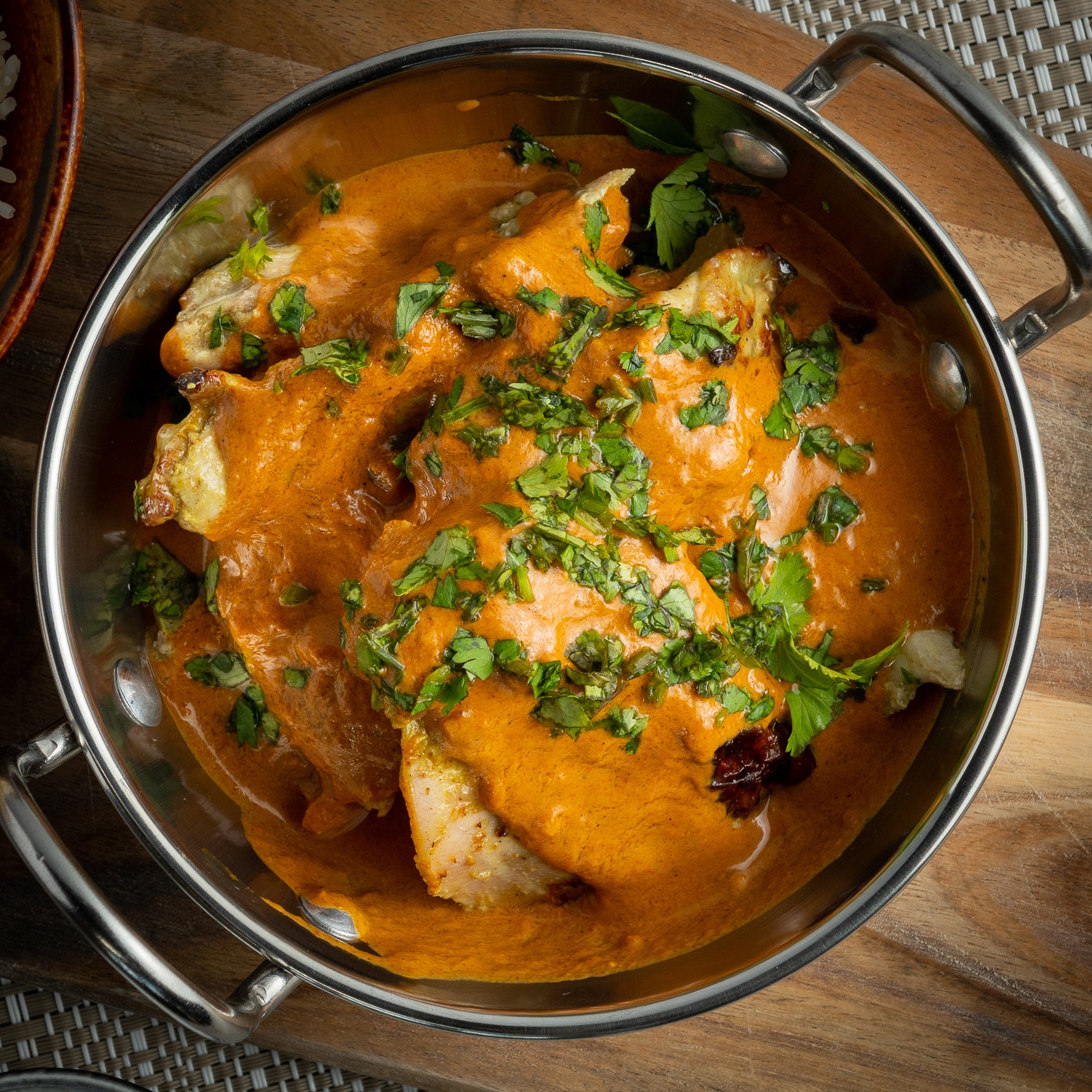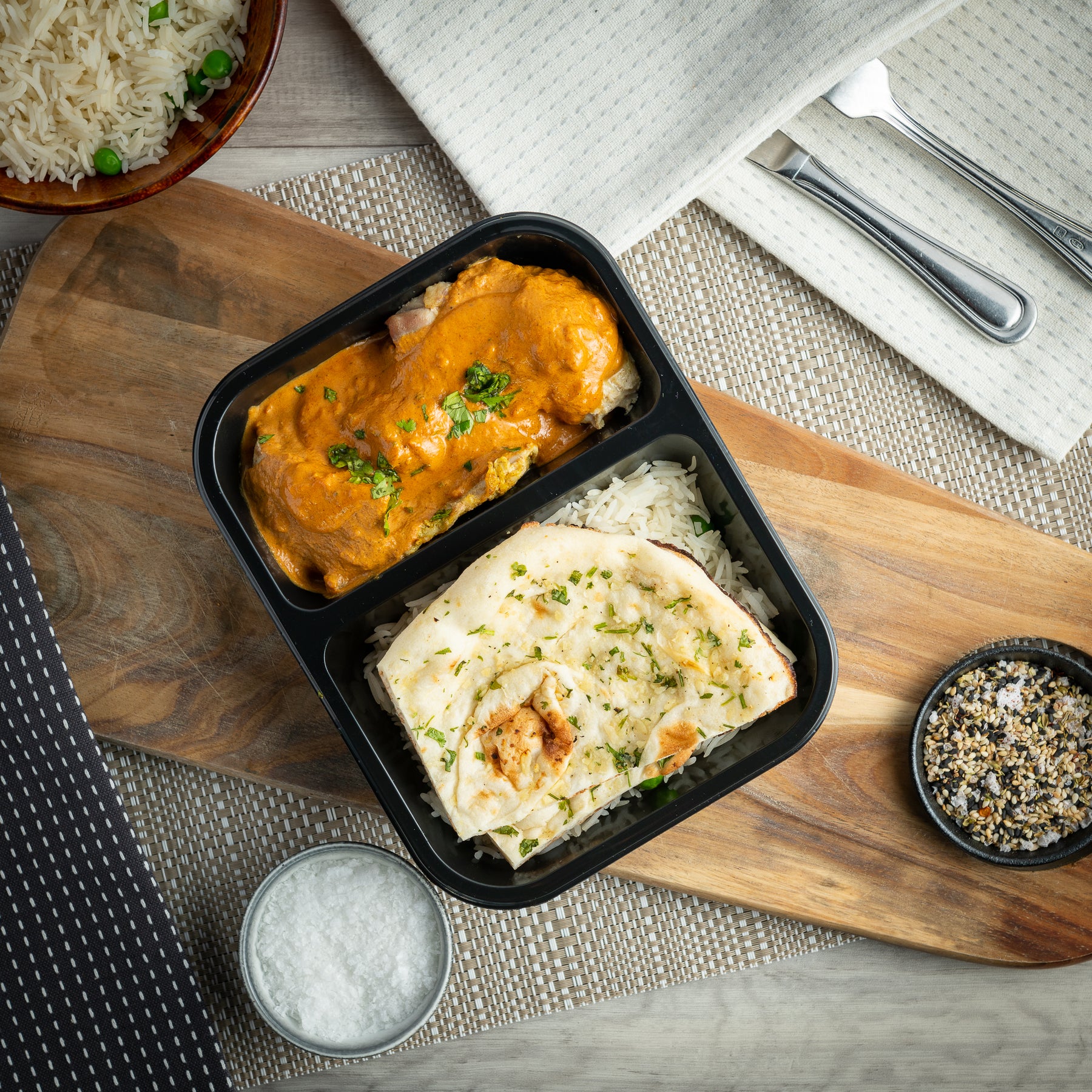 Butter Chicken
Details
Aromatic golden chicken pieces in an incredible creamy curry sauce with a hint of honey, this Butter Chicken recipe is one of the best, served with garlic naan and aromatic basmati rice.
Ingredients
Chicken thigh, basmati rice, coconut cream, tomato, onion, tomato paste, butter (milk), garlic, ginger, honey, garam masala, cumin, turmeric, coriander, cayenne pepper, chilli flakes, garlic naan (gluten), peas, salt. 
CONTAINS: Dairy (milk), Gluten. 
Nutrition Information Typical Values - SINGLE (300g)
Servings per package: 1
Serving size: 300g
| | | | |
| --- | --- | --- | --- |
|    | Per serving | % Daily intake (per serving)* | Per 100g |
| Energy | 2160kJ | 25% | 722kJ |
|    | 516Cal | 25% | 173Cal |
| Protein | 26.7g | 53% | 11.6g |
| Fat, total | 10.8g | 15% | 7.3g |
|  - saturated | 2.6g | 11% | 3.3g |
| Carbohydrate | 76.3g | 25% | 14.7g |
|  - sugars | 3.2g | 4% | 1.3g |
| Sodium | 3351mg | 146% | 565mg |
 All values are considered average unless otherwise indicated
*based on an average adult diet of 8700kJ 
Nutrition Information Typical Values - LARGE SINGLE (450g)
Servings per package: 1
Serving size: 450g
| | | | |
| --- | --- | --- | --- |
|    | Per serving | % Daily intake (per serving)* | Per 100g |
| Energy | 3247kJ | 37% | 722kJ |
|    | 777Cal | 37% | 173Cal |
| Protein | 52.1g | 104% | 11.6g |
| Fat, total | 32.8g | 47% | 7.3g |
|  - saturated | 14.6g | 61% | 3.3g |
| Carbohydrate | 66g | 21% | 14.7g |
|  - sugars | 5.9g | 7% | 1.3g |
| Sodium | 2542mg | 111% | 565mg |
 All values are considered average unless otherwise indicated
*based on an average adult diet of 8700kJ