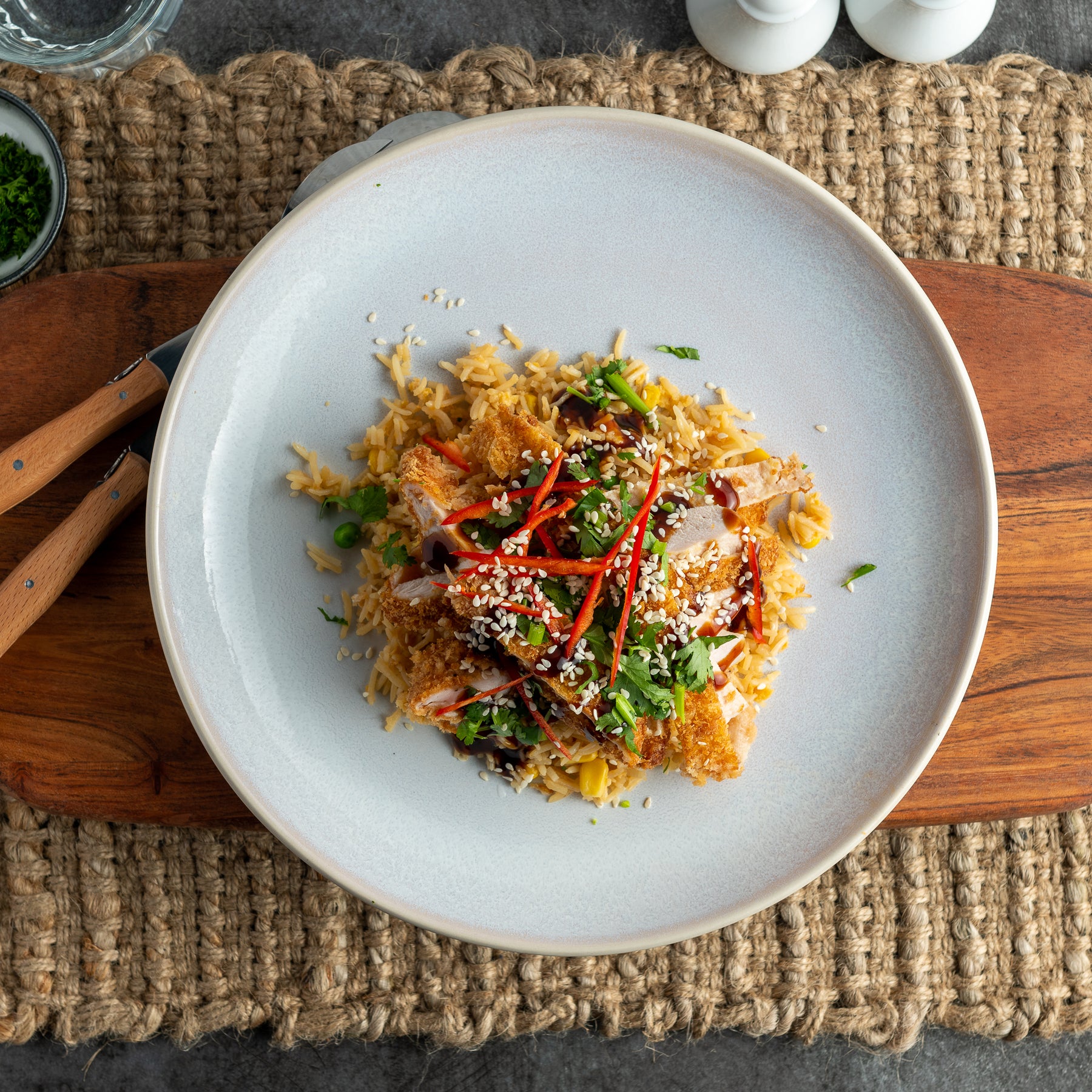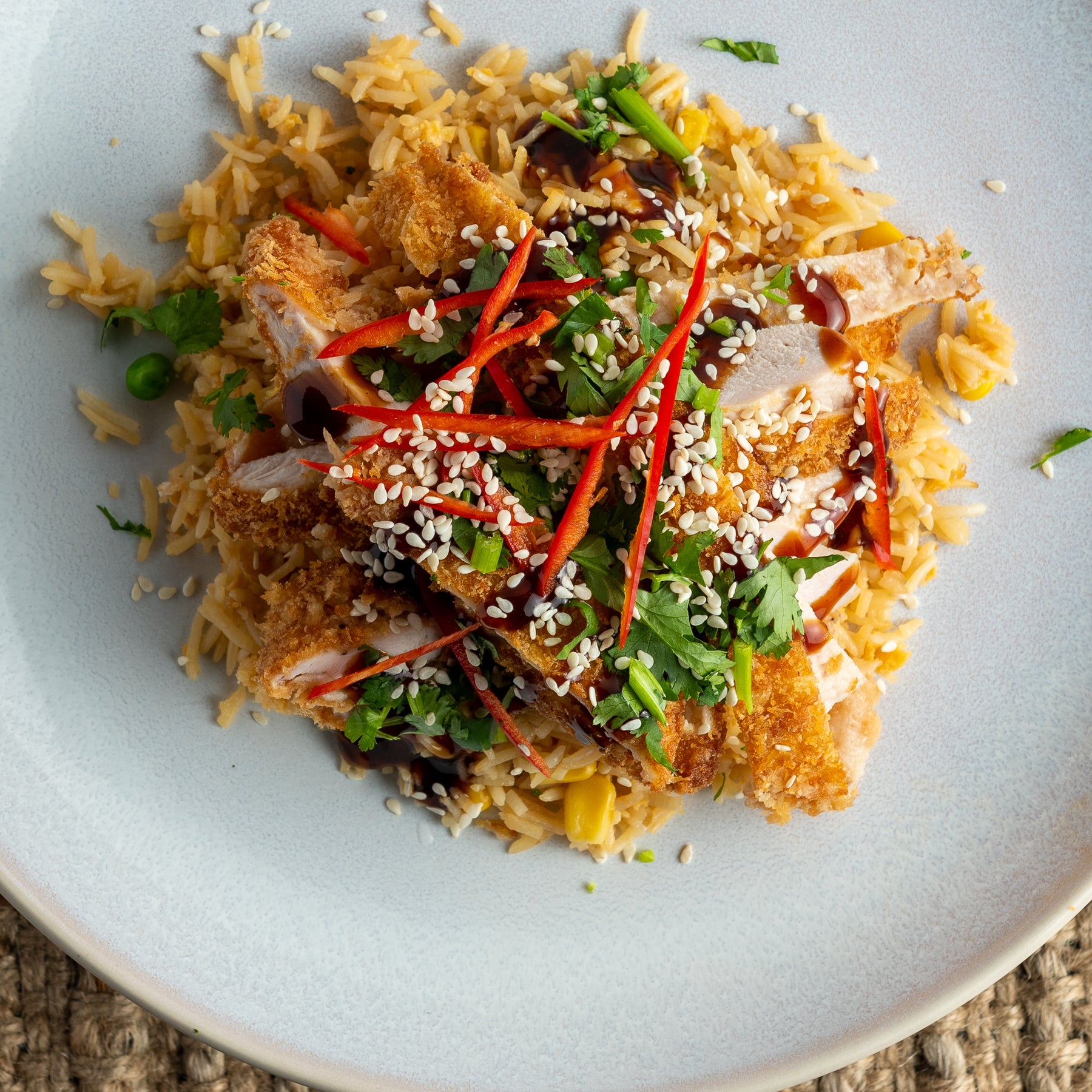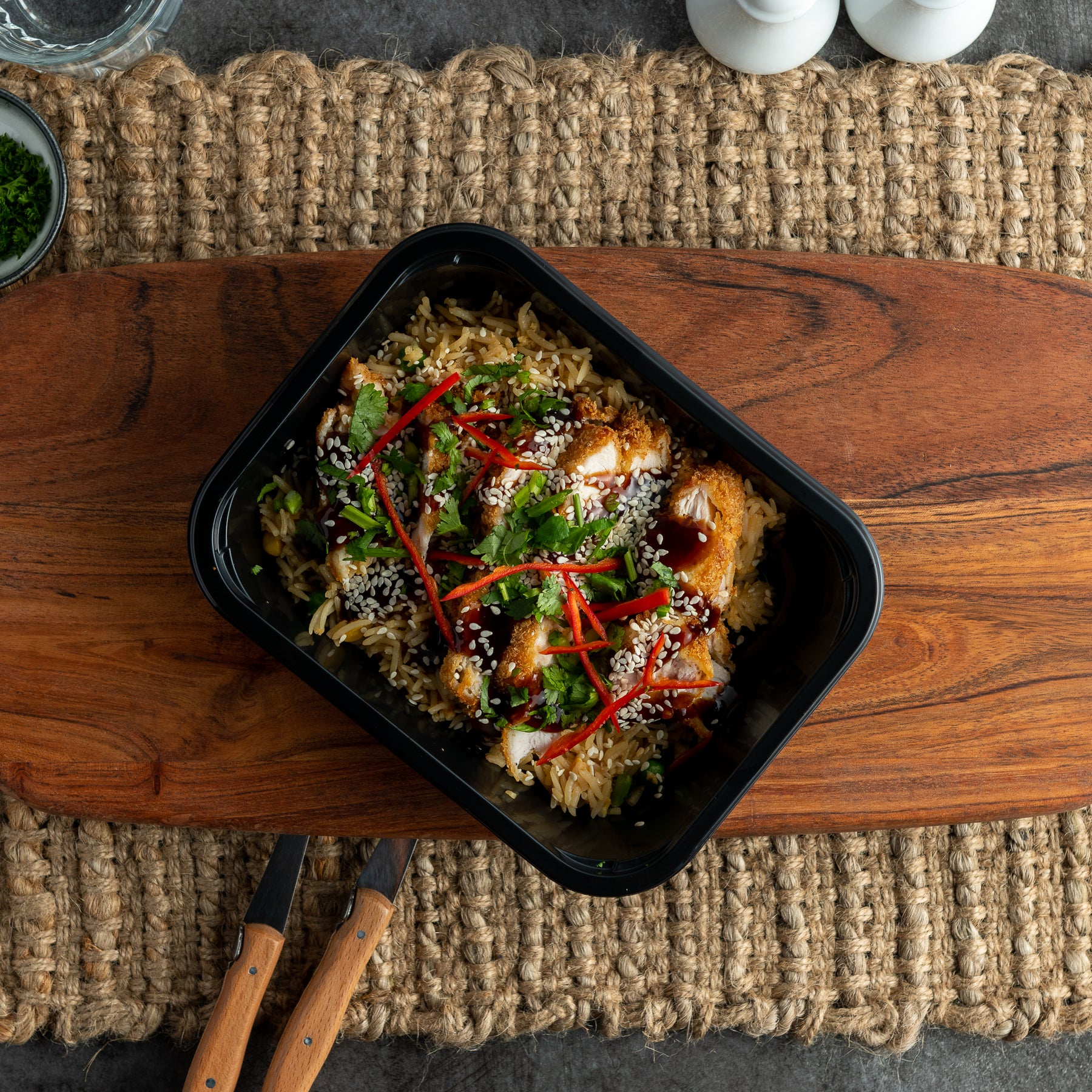 Chicken Katsu
Details
Panko crumbed chicken breast sliced over vegetable-and-egg fried rice and topped with famous Tonkatsu Japanese BBQ sauce.
Ingredients
Chicken thigh, basmati rice, flour (Gluten), breadcrumbs (Gluten), eggs (eggs), milk(milk), peas, corn, onion, soy sauce (soy), garlic, water, brown sugar, hoisin sauce, vinegar, corn starch, garlic, onion, chilli flakes, sunflower oil, salt, sesame seeds (Sesame).
CONTAINS: Sesame, Gluten, Eggs, Dairy (milk), Soy.
Nutrition Information Typical Values - SINGLE (263g)
Servings per package: 1
Serving size: 263g
| | | | |
| --- | --- | --- | --- |
|    | Per serving | % Daily intake (per serving)* | Per 100g |
| Energy | 2090kJ | 24% | 824kJ |
|    | 501Cal | 24% | 197Cal |
| Protein | 40g | 80% | 15.4g |
| Fat, total | 17g | 24% | 6.3g |
|  - saturated | 3.1g | 13% | 1.1g |
| Carbohydrate | 45.5g | 15% | 19.1g |
|  - sugars | 5g | 6% | 2g |
| Sodium | 1055mg | 46% | 430mg |
 All values are considered average unless otherwise indicated
*based on an average adult diet of 8700kJ  
Nutrition Information Typical Values - LARGE SINGLE (375g)
Servings per package: 1
Serving size: 375g
| | | | |
| --- | --- | --- | --- |
|    | Per serving | % Daily intake (per serving)* | Per 100g |
| Energy | 3094kJ | 36% | 824kJ |
|    | 740Cal | 36% | 197Cal |
| Protein | 57.9g | 116% | 15.4g |
| Fat, total | 23.7g | 34% | 6.3g |
|  - saturated | 4.0g | 17% | 1.1g |
| Carbohydrate | 71.8g | 23% | 19.1g |
|  - sugars | 7.6g | 8% | 2g |
| Sodium | 1613mg | 70% | 430mg |
 All values are considered average unless otherwise indicated
*based on an average adult diet of 8700kJ