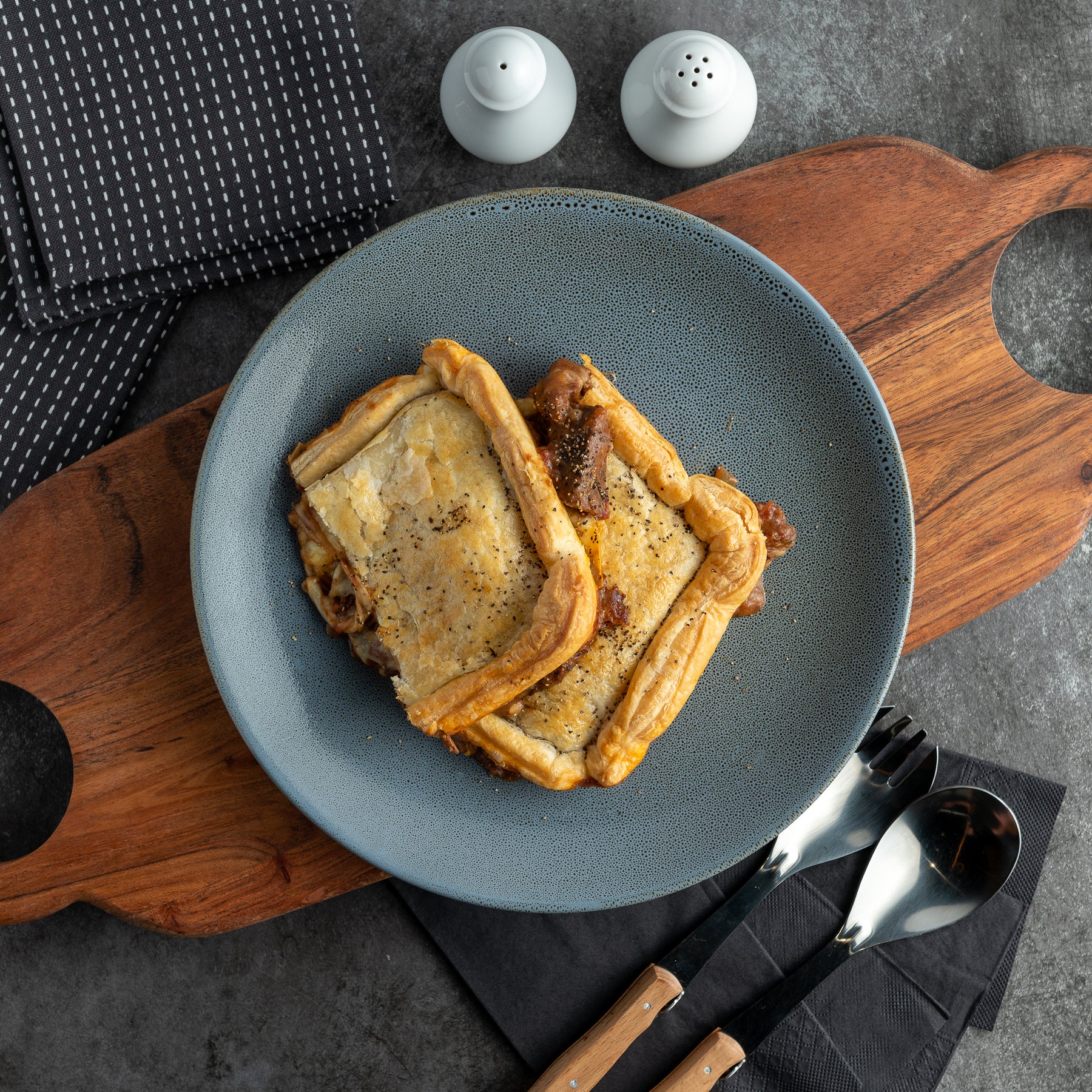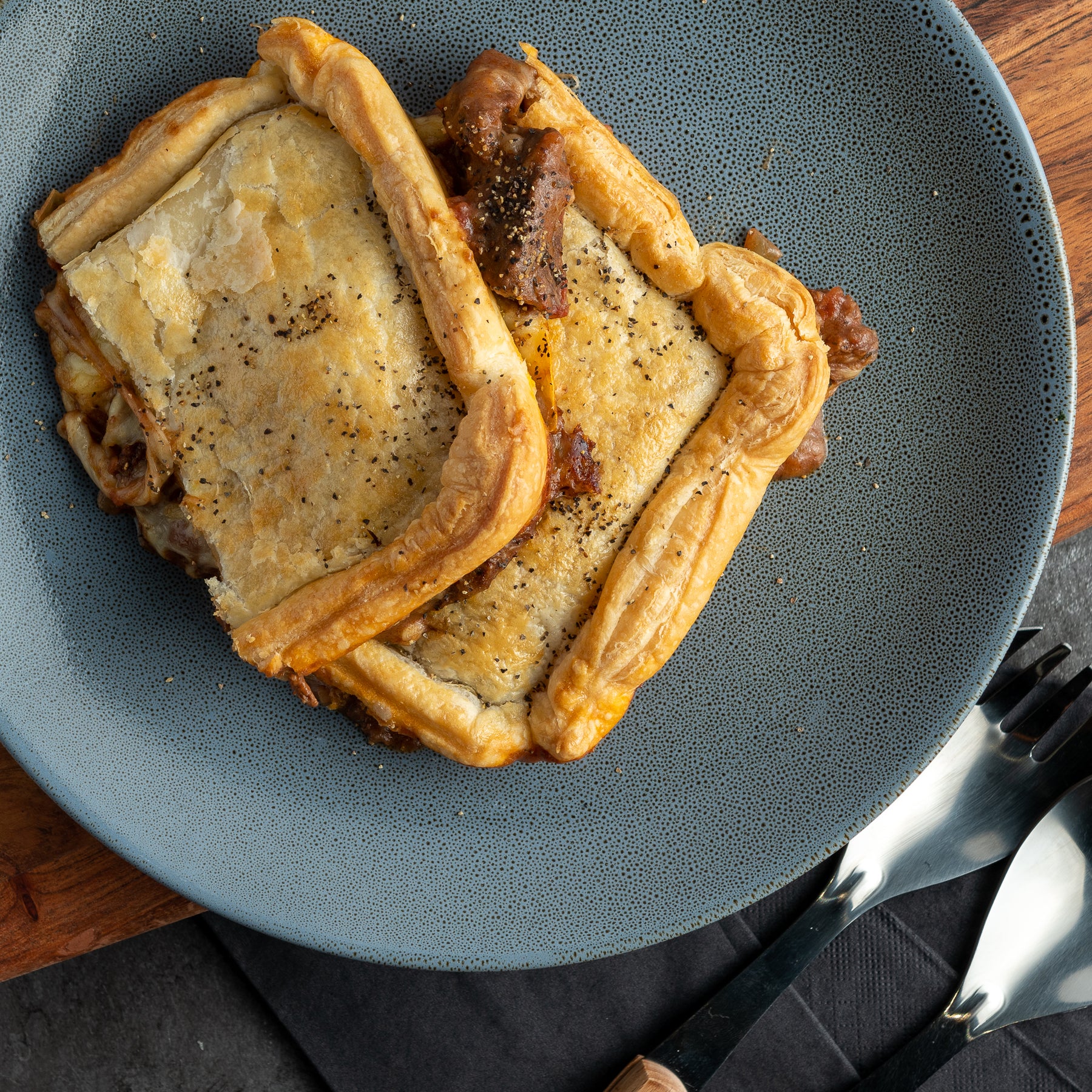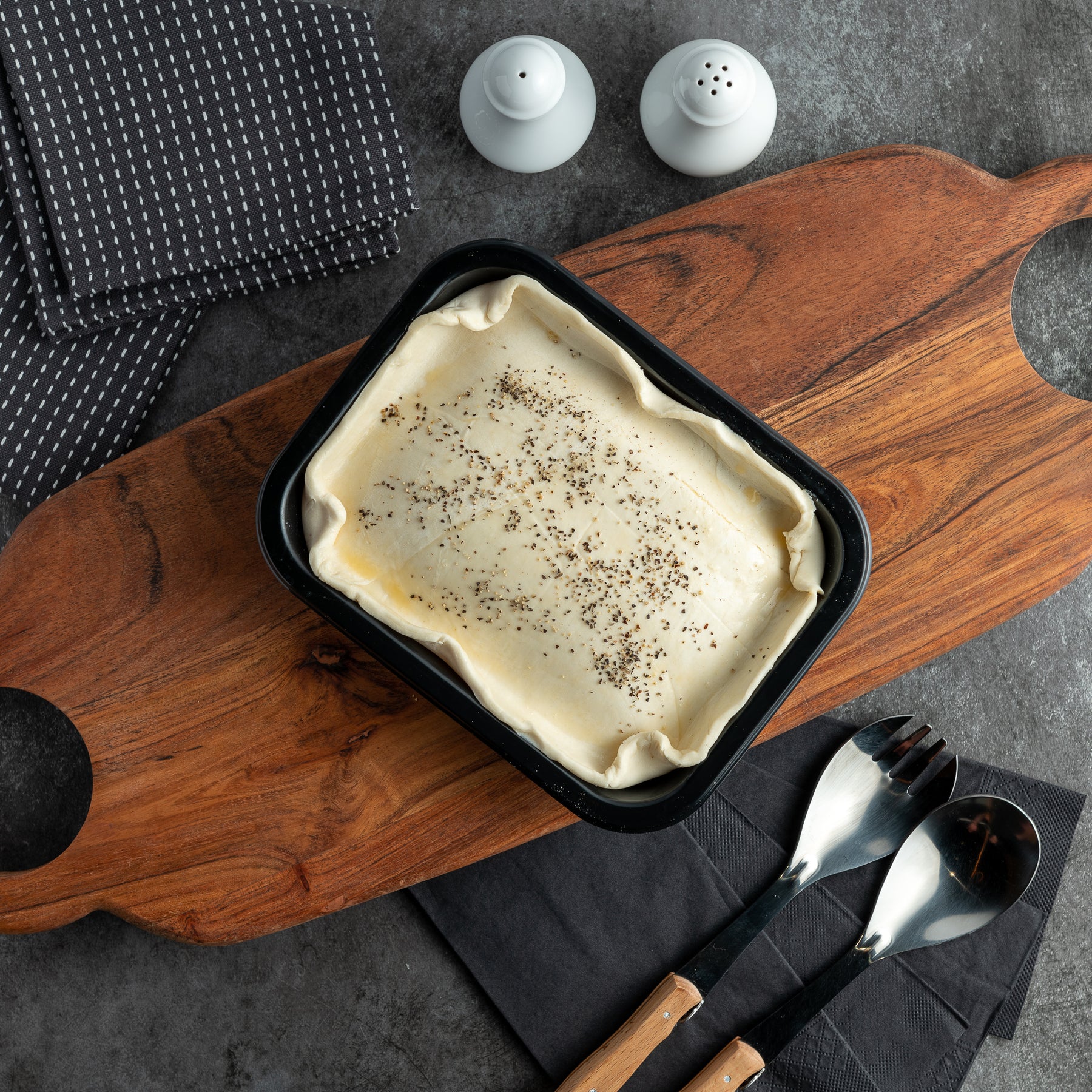 Beef & Mozzarella Pie
Details
A New Zealand favourite. A hearty beef pie cooked in red wine, with cherry tomatoes, mozzarella and topped with flaky pastry. Quick and easy to pop in the oven on cool winter nights.
Note: This pie must be heated in the oven.
Ingredients
Beef, pastry (gluten), mozzarella (milk), onion, flour (gluten), red wine, beef stock, tomato paste, paprika, thyme, cherry tomatoes, rosemary, garlic, olive oil, Worcestershire sauce, egg (egg), pepper, salt.
CONTAINS: Dairy (milk), Gluten, Egg. 

Nutrition Information Typical Values - SINGLE (370g)
Servings per package: 1
Serving size: 370g
| | | | |
| --- | --- | --- | --- |
|    | Per serving | % Daily intake (per serving)* | Per 100g |
| Energy | 3400kJ | 39% | 920kJ |
|    | 815Cal | 39% | 220Cal |
| Protein | 47.7g | 95% | 12.8g |
| Fat, total | 42.4g | 61% | 11.5g |
|  - saturated | 323.3g | 97% | 6.3g |
| Carbohydrate | 53.8g | 17% | 14.5g |
|  - sugars | 9.9g | 11% | 2.7g |
| Sodium | 629mg | 27% | 170mg |
 All values are considered average unless otherwise indicated
*based on an average adult diet of 8700kJ 
Nutrition Information Typical Values - LARGE SINGLE (510g)
Servings per package: 1
Serving size: 510g
| | | | |
| --- | --- | --- | --- |
|    | Per serving | % Daily intake (per serving)* | Per 100g |
| Energy | 4693kJ | 54% | 920kJ |
|    | 1123Cal | 54% | 220Cal |
| Protein | 65.3g | 131% | 12.8g |
| Fat, total | 58.5g | 84% | 11.5g |
|  - saturated | 32.1g | 134% | 6.3g |
| Carbohydrate | 74.1g | 24% | 14.5g |
|  - sugars | 13.7g | 15% | 2.7g |
| Sodium | 867mg | 38% | 170mg |
 All values are considered average unless otherwise indicated
*based on an average adult diet of 8700kJ